Our hope for this website is to turn much of the material in our archive into a permanent, online resource which will be of use and fascination to all those with an interest in the local history of Spondon and Derby. Click here to find out more.
The website also contains information about the historical society itself, details of our regular monthly meetings (which anyone is welcome to attend) and links to some useful resources and websites about Spondon and Derby's local history.
We hope that you find the website useful and may even wish to help us in our quest to bring Spondon's history into the public eye.
Our Publications:
Spondon Historical Society works with the Village Improvement Committee on a series of local history publications called the Spondon Archive.
Our titles so far are:
Spondon Clubs and Societies 1861-2011
The Malt Shovel, Spondon
Exploring Spondon: walks through Spondon's history
Canoes to Commuters: transport in Spondon through the ages
The Parish Church of St Werburgh, Spondon
The Methodist Church, Spondon 
Spondon School 1662-1839 
Spondon School 1839-1964 
Spondon Goes to the Pictures
My Life in Spondon and other great places
Scouting in Spondon
Spondon's Power Stations: a century of change and innovation 1917 to 2017
Spondon Remembers, the war memorials of Spondon 
Church Hill and Potter Street: a history of the heart of Spondon
Spondon: A Village Remembered
Spondon Hospital 1914-1919
Spondon Pubs and Clubs - A Social History
The Life and Times of Anne Topham of Spondon 
John Stower's Spondon 1895 to 1980
The Evolution of Farming in Spondon
Guiding in Spondon
All the books are available in the village from Spondon Pharmacy, and the latest five titles are also available from Simnett Funeral Directors. If you would like us to post a copy of any of the books, either in the UK or abroad, please email [email protected] for further details.
Click here to find out more about the full series »
---
We also have a walk leaflet on sale locally at  Simnett Funeral Directors and Spondon Pharmacy.
A walk round Spondon: an introduction to an Ancient Village £1.50
The walk takes about 1½ hours at a gentle pace.
Can you help?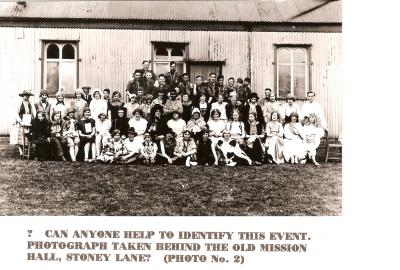 Can anyone name others in the photo?