The ancesters of New Zealander Christine Clement were among Spondon's residents of the past. As part of her interest in genealogy, Christine compiled various lists of Spondon family names and other information from different sources and hosted them on her own website.
Having now planned to close her website down, she has kindly allowed us to rehost this information here so it remains available. The information is shown below as-is below from Christine's original webpages.
SPONDON, DERBYSHIRE, ENGLAND
Spondon is on the outskirts of Derby in midlands England. It was once a village but is now part of the greater Derby City conurbation. In New Zealand, the Maori have a word Turangawaewae — or the place of your ancestors. Spondon is the nearest I have to this as my ancestors have been in this village from the 1700s and still have a presence there today. It is thought that before Spondon, my ancestors came from Elvaston, which is a few miles away. My grandmother Kathleen Coxon was born in Spondon in 1906 and came to New Zealand with her husband and three children in 1947. I have visited Spondon many times and have walked the streets, visited the pubs and of course the church (St Werburghs) much as my ancestors have done. Please let me know if you have more to add for this page.
From Dictionary of English Place Names by A D Mills 1998
SPONDON Derbys.
Spondune 1086 (Domesday Book). Probably 'Hill where wood-chips or shingles are got'. OE spon + dun.. In the 13th and 14th centuries the village name was spelt Spandon. In the 18th century Spaindon and later still, Spoondon. It has been Spondon for a number of years.
Funny Spondon Story
We have a family story about Spondon that my grandmother told us - it goes "Annie Maria Matilda Sophia Amelia Clara Jane, go and see what Albert is doing and tell him to stop it!" Apparently they used to hear it from their neighbour.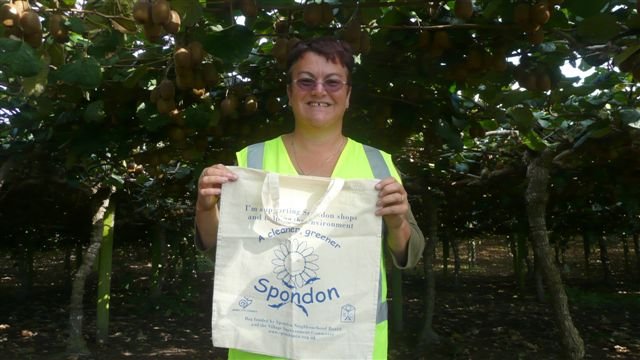 Underneath the Kiwifruit vines - Te Tumu Road, Te Puke - April 2010
Thanks to Anne & Derek Hathaway of the Spondon Community Association for my Spondon Bag.
SPONDON FAMILIES
ANTILL
Visit ROBIN ANTILL's web site for more on the Antill family of Spondon.
ASHBY
BAPTISMS - from St Werburghs 1700 - 1896
BURIALS - from St Werburghs 1724 - 1882
COXON
Visit my COXON page for more on the Coxon's of Spondon.

HOLBROOK
BAPTISMS - from St Werburghs 1699 - 1906
BURIALS - from St Werburghs 1723 - 1881
HOLLAND
BAPTISMS - from St Werburghs 1763 - 1859
BURIALS - from St Werburghs 1765 - 1872
LATHER
BAPTISMS - from St Werburghs 1833 - 1909
BURIALS - from St Werburghs 1835 - 1915
POTTER
BAPTISMS - from St Werburghs 1718 - 1903
BURIALS - from St Werburghs 1817 - 1919
SPONDON WILLS AND PROBATES
SPONDON WAR MEMORIALS
SPONDON LIBERAL CLUB - WORLD WAR ONE
SPONDON LIBERAL CLUB - WORLD WAR TWO
INDEXES TO BOOKS ABOUT SPONDON
MEMORIES OF SPONDON - A short account of Spondon past. By Guy Brighouse. 1990.
PARISH CHURCH OF ST WERBURGH, SPONDON, DERBY - By John R Hughes and S T Lusted. 1999.
SPONDON, A HISTORY - By Susan Watson. 1989.
SPONDON LIBERAL CLUB - The First Hundred Years. 1992.
SPONDON HOUSE SCHOOL - The History of a Village School in the County of Derby (1662-c1964). By E J Kenedy c1964.
AROUND SPONDON - By John R Hughes. 1997.
DIRECTORIES
1855 POST OFFICE - Spondon.
1899 KELLYS - Spondon.
---
BACK TO MAIN SPONDON HISTORICAL SOCIETY WEBSITE